Being an Advisory Board Member can be a rewarding and interesting role
As an Advisory Board member you can play a very valuable role in a company and business owner's development growth and achievement. In a simple and structured environment it is an opportunity to work with motivated business owners,  providing  guidance, support and  advice.  Your Advisory Board services may complement your current portfolio of advisory and professional services, or be provided completely separate to your 'day job'.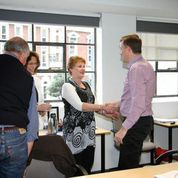 Some members are from the professional services industry (accountants, marketing specialist, lawyers etc.) and others have specific industry or market experience  that they are keen to share.  Others are keen to start a career in governance and see the Advisory Board structure as a more comfortable step than being an official company director.  Advisory Board members come from all walks of life and are chosen for their technical skills, experience, knowledge or networks.  If you have business skills that you can bring to the Advisory Board table then register your interest now to be an Advisory Board member.
Dossier
By registering you'll also be added to our dossier which includes:
our quarterly newsletter
a personal invite to join the discussion on LinkedIn
Registration is easy and inexpensive ($89.00 plus GST per year)
Quick tip
A common question is 'Do you have to load a CV?' The answer is No. Many people find it easier to just put up a current one page biography. For many these are easier to write and easier to read so if you are thinking of registering over the weekend don't let the thought of updating your CV hold you back!
Email us to Register Now.